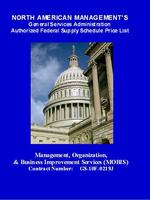 Contract Number
GS-10F-0219J
Contract Period

September 1, 2014 to August 31, 2019
Business Size

Small Disadvantaged
The MOBIS contract offers a full range of management and consulting services that can improve a federal agency's performance and their endeavor in meeting mission goals. Through the MOBIS schedule, North American Management can help our clients improve their performance and accomplish mission goals through the use of specialized consulting and training services, facilitation, surveys, competitive sourcing and project management.
Description of Services

Consulting Services

In our Management Consulting Practice we provide customized services that determine the key critical factors to make our client's organization successful, based on mutually prescribed goals and objectives. Our services include the development of organizational reviews and structures. The development and supervision of management audits, providing organizational strategies, policy analysis and monitoring, developing management techniques required to strengthen the overall organization, developing economic development strategies, and providing general management assistance.
Facilitation Services

North American Management offers unbiased, skilled facilitation in direct response to existing challenges and problems faced by federal, state, and local governments, as well as Fortune 1000 companies and non-profit organizations. Whether the group is a cohesive team who needs assistance with organizational change and strategic development, or diverse groups who require guidance in resolving disputes and problem solving, North American Management guarantees a productive process. For teams of all sizes and at all organizational levels, we offer a method of facilitation that ensures whole-team commitment and produces genuine consensual outputs.
Survey Services

North American Management understands the need for organizations in today's rapid-pace environment to gather, analyze, and report information quickly and accurately. Equally important is the ability to assess the effectiveness of their programs objectively and continuously. Increasingly, the success of an organization is dependent on reliable and current information – data that reflects and illuminates the requirements of functional responsibilities and the diversity and complexity of programmatic needs.
Training Services

North American Management has developed a training organization to respond to the needs of our clients facing the challenges of a competitive global marketplace. Our team can make recommendations on essential employee training programs that will give employees the skills they need to achieve an organization's mission. We can provide subject matter expertise in Business Process Reengineering, Human Resources, Information Technology (including off the shelf software), Facilities Management, Procurement and Health Care, or use the client's in-house expertise or external resources.
Support Products

North American Management assists clients in making determinations on privatization and assists them with the effects of the change. As governments are faced with diminishing resources and public support for "reinventing government", public sector managers must address concerns over the cost, efficiency and effectiveness of programs. Our team will support the policy objectives of our clients by providing experience in the areas of: public sector decision making process, organizational audits research methods, quantitative analysis, cost benefit analysis, policy research and analysis, program evaluation, case study analysis, and requirements analysis.