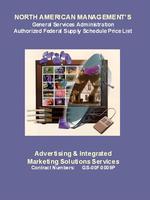 Contract Number:
GS-00F-0009P
Contract Period:
April 1, 2015 to October 31, 2018
Business Size:
8(a) – Small Disadvantaged
The Advertising & Integrated Marketing Solutions contract provides our clients with quality advertising and marketing services by keeping their communication needs in mind. Through this contract, clients are able to acquire North American Management's expert help in the advertising, marketing and related communications fields.
Description of Services:
Advertising Services:
Services will promote public awareness of an agency's mission and initiatives, enable public understanding of complex technical and social issues, disseminate information to industry and consumer advocacy groups and engage in recruitment campaigns.
Public Relations Services:
Services include, but are not limited to: providing customized media and public relation services such as the development of media messages and strategies; providing recommendations of media sources for placement of campaigns; preparing media materials including: background materials, press releases, speeches and presentations and press kits.
Web Based Marketing Services (Small Business Set-Aside):
Develop strategies for an agency to provide the maximum use of it's Internet capabilities, including consultation, development and implementation website design and maintenance services.
Market Research and Analysis:
Services include, but are not limited to customizing strategic marketing plans; branding initiatives; creating public awareness of products, services, and issues; targeting market identification and analysis; establishing measurable marketing objectives; determining market trends and conditions; identifying and implementing appropriate strategies; conducting focus groups, telemarketing, individual interviews, preparing/distributing surveys, and compiling/analyzing results; and establishing call centers (in relation to services provided under this schedule).
Video/Film Production:
Videotape and film production services will be provided to inform the public and Government agencies about the latest products, services, and/or issues in various outputs including: industry standard formats, CD-ROM, DVD and video streaming development. Filming in studios, on location, live shows, or events may also be required.
Exhibit Design and Implementation Services:
Making all necessary arrangements for exhibits in various venues including museums, malls, and tradeshows.
Conference, Events and Tradeshow Planning Services (Small Business Set-Aside):
Services include the making of all necessary arrangements for conferences, seminars and trade shows. Event-marketing services may include but are not limited to the following services for a show, event, and/or booth:
Commercial Photography Services (Small Business Set-Aside):
Photography services may be used for commercial advertisements and/or illustrations that will appear in books, magazines, and/or other media.
Commercial Art and Graphic Design Services (Small Business Set-Aside):
Commercial art, graphic design, and special effects that educate the consumer market about a product or service, may be required along with updating, rewriting, and/or editing materials.