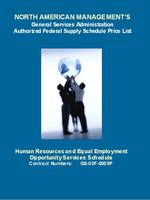 Contract Number
GS-00F-0009P
Contract Period
April 1, 2015 to October 31, 2018
Business Size
8(a) – Small Disadvantaged
The Human Resources & Equal Employment Opportunity Services Schedule offers a wide range of HR-specific services, including planning, training and employee relations, services to assist with EEO issues range from Investigation of Discrimination Complaints and Preparation of Reports of Investigation, to EEO Training and Consulting, as well as alternative dispute resolution.
Description of Services
Inquiry, resolution attempts and the preparation of an analysis and recommended final agency decision (fad) on allegations of noncompliance with settlement agreements or final agency decision
This service provides an avenue to aggrieved individuals who allege noncompliance with the settlement agreement in accordance with 29 C.F.R. Part 1614 and EEOC Management Directive (MD)-110.
Resolution attempt & report of inquiry regarding notices of intent to sue under adea-consolidated case
This service provides inquiry and resolution attempt regarding aggrieved employees or applicants for employment who believe they have been discriminated against on the basis of age and have chosen to bypass the administrative complaint processing system.
Alternative Dispute Resolution
This service is to provide trained ADR professionals to attempt resolution of allegations of discrimination in accordance with Administrative Dispute Resolution Act of 1996.
General Support Services
Planning; Recruitment and Internal Placement; Pre-Employment Screening including, (NACLC, LAC, SSBI, SSBI-PR) and Misconduct Investigations; Position Classification; Personnel Actions; Training; Employee Assistance; Employee Relations; Outplacement.
Review and Integration Services
Function review of the human resources department and other offices relating to the implementation function outsourced; Integrator shall act as program manager to connect/integrate the various functions performed by multiple contractors.