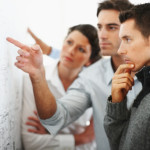 North American Management

produces print and other collateral to empower patients and caregivers with the information and applications needed to navigate the healthcare landscape and, as a result, to permit better health outcomes, especially for underserved groups and populations.
Our team's combination of competencies is reflected in our ability to link content directly to appropriate audiences and outlets that have the potential to increases exposure multi-fold. For example, North American Management casts a wide net in identifying publishing opportunities and works tirelessly to ensure every article, brochure, fact sheet and other publications advance the client's desired messages.
Our team has extensive experience providing the full range of editorial services for our customers; we not only understand the writing style required to be effective but also combine our customers' style with thorough research to reinforce their messages.
Our offerings include contributed articles, opinion pieces and blogs, profiles, case studies, newsletters and fact sheets, PowerPoint presentations and webinars, monographs and fact sheets to name a few.
For example, North American Management:

Designed and implemented the highly successful "Predatory Lending Campaign" for HUD
Created the highly successful international "Boating Under the Influence" campaign for the Coast Guard
Designed Education and Outreach Campaign for "Zero-Base Rule-making," for the Department of Transportation
Developed Guidelines for Alcohol and Drug Testing for Drivers of Commercial Vehicles (Trucks and Buses) for DOT's Federal Motor Carrier Administration
Produced GSA's National Vehicle Standards Guide
Managed the Information Resource Center for HRSA Public Housing and Primary Care Grantees
In partnership with HUD's Office of Healthy Homes and Lead Hazard Control, we worked closely with the agency and our graphics team to design toolkit covers to support the messaging for educating low-income Americans about the hazards related to second-hand smoke, especially among children and the elderly living in public and other federally assisted affordable housing.