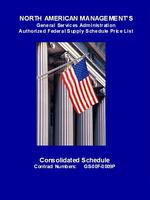 Contract Number
GS-00F-0009P
Contract Period
April 1, 2015 to October 31, 2018
Business Size
8(a) – Small Disadvantaged
The Consolidated Schedule combines the services currently offered under GSA's Schedules under a single seamless contract. The Consolidated Schedule is basically a roll up of some of the individual Schedules maintained by various Acquisition Centers.
Description of Services
The Consolidated Schedule combines the services currently offered under GSA's Schedules under a single seamless contract. The Consolidated Schedule is particularly appealing to federal agencies when procuring requirements that fall under various functional domains. For example, a federal agency can use the Consolidated Schedule to issue a task order to North American Management to perform a requirement that includes services falling within the scope of multiple Schedules. Our Consolidated Schedule includes the services from the following contracts:
Schedule 541: Advertising & Integrated Marketing Solutions (AIMS)
under Schedule 541" which include:
Advertising Services

that promote public awareness of an agency's mission and initiatives, enable public understanding of complex technical and social issues, disseminate information to industry and consumer advocacy groups and engage in recruitment campaigns.

Public Relations Services

provides customized media and public relation services such as the development of media messages and strategies; providing recommendations of media sources for placement of campaigns; preparing media materials including: background materials, press releases, speeches and presentations and press kits.

Integrated Marketing Services

providing comprehensive solutions using strategically targeted marketing plans that include full service execution of media planning and creative multimedia campaigns.These comprehensive solutions include services available separately under: 541-1 Advertising, 541-2 Public Relations, 541-3 Web Based Marketing, and 541-4 Specialized Marketing.

Schedule 520: Financial and Business Solutions (FABS)

provides Federal agencies with direct access to commercial experts that can thoroughly address the needs of the Federal financial community. FABS not only gives you access to a multitude of professional financial services, but also provides you with the ability to customize the services to meet your specific needs. The FABS schedule allows for choice, flexibility, ease-of-use and access to quality firms in the financial arena.

Schedule 738X: Human Resource Services, EEO Services

includes a variety of EEO services such as investigation of complaints (single or multiple issues), alternative dispute resolution, training, consulting, on-line reporting systems, reference materials, analysis, recommendations, and EEO counseling. Also includes a variety of human resource services such as planning; recruitment and internal placement; pre-employment screening; position classification; personnel actions; training; employee assistance; employee relations; outplacement; review and integration services; and workers compensation.

Schedule 70: Information Technology Services (IT)

was established by GSA to assist federal government agencies with their procurement of technology  products, services and solutions as needed to meet their agency technology missions. North American Management offers a full range of IT and system integration and Information Technology Professional Services to meet the needs of Federal agencies and mangers. North American Management services can be customized to address specific IT service requirements within a systems integration framework.